Introduction
In the wake of China's emerging to an economic and cultural giant in the world, more and more Americans are interested in learning Chinese for the sake of as a second language, doing business or tourism. Besides, many American families in Metro-Portland areas have adopted or are going to adopt children from China. The parents of these families hope their children can continue exposing to Chinese language and culture. Desired to meet these demands, Yufang's Chinese Learning Center (YFCLC) is offering a variety of Chinese learning programs for the adults as well as for children at varied ages. We hope this website opens a window for us to introduce you about the teachers, programs, classes that you would be interested.

About the Learning Center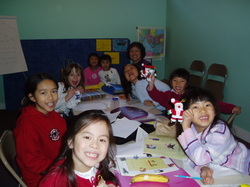 The founder and principal teacher's name is Yufang Wang, who graduated from Suzhou University with a B.A. Degree in Education. She has teaching experiences over 30 years, and has been teaching adults and children Chinese (Mandarin) in Portland and Beaverton areas since 1998. She also teaches Chinese (Mandarin) at Portland Community College. Our staff teacher has specialized children educational background with more than 15 years experiences in preschool education, holding multiple rewards for her outstanding achievements in preschooler education.

It is worth pointing out that Yufang's Chinese preschool class has a distinct feature of teaching children the Chinese language through songs, dances, rhymes and games. In this way, not only will it help keep the attention of children, but also help explore early stage of intelligence. Practice has shown that children love this approach, and evident success has been achieved in the language study process. Our teaching practices had attracted hundreds of students into our classes, and more than a dozen students have been with us more than 7 years, some of them started their Chinese programs since their 2 years old, and now are high school students still with us.

With the privilege of many years experiences, strong teaching resources, and solid support from our parents. YFCLC recently decided to open a Chinese immersion preschool program: "Fun-Fun Chinese Immersion Preschool Program" in SE Portland Woodstock area. The Chinese name is called 芳芳融入式中文学前班。For detailed information please visit News page.
---